The school is independently owned and operated by husband & wife team Simon and Bridgett Ane (BA) Goddard. Both Simon & BA are long time Bikram practitioners who both teach and practice regularly at the school.

Bridgett Ane Goddard
Originally from Chicago, Bridgett Ane relocated to London from New York in 2007. She began practicing Hatha Yoga in 1995, then Ashtanga, Vinyasa along with other styles. She was introduced to Bikram Yoga in 2000 and change was almost immediate. Fascinated with the series' systematic approach to and perfect balance of body: strength/flexibilty/cardio, and mind: concentration/patience/faith/self-control, Bikram method became her yoga of choice.

Although not naturally flexible, her willpower, dedication and approach towards developing and maintaining her practice has enabled her to reshape her body and her life to the extent that she has been chosen three times to represent the UK at the International Yoga Asana Championships.

Once graduated from teacher training in June 2006, she taught all over the US from NYC to Bikram Headquarters in Los Angeles. A graduate of Ithaca College with a BFA in Acting, she works professionally as both an actor and a dancer when she's not in the yoga room. BA has also been published in a number of journals, including Yoga Magazine.

Having been diagnosed with the auto-immune disorder Interstitial Cystitis in 2009, she has experienced practicing in pain and with limited mobility. "My approach to class had to totally change and healing mode became the only way...'twice as often and half as deep' (the usual recommendation for those with severe ailment or injury) was too much for me and I was instructed to lessen my frequency and eat more 'real food' although IC has so many food restrictions that was challenging. My diet has completely changed and continues to evolve. The practice has helped me be open to change and heal myself naturally without requiring the medication I was told I'd be on for a lifetime."

Bikram's Class allows her to recognise the unlimited potential within us all and she encourages students to have faith in Bikram's series, to let go of judgment and/or fear and practice with courage and compassion.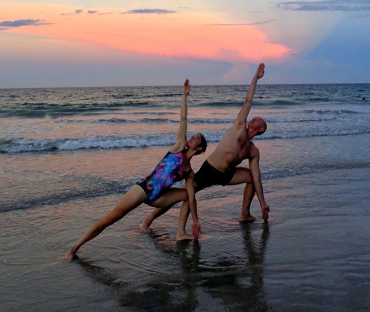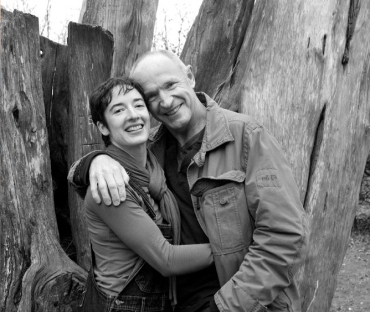 Simon Goddard
Simon was working in New York City in a corporate capacity when he was introduced to Bikram yoga. He says at the time he was looking something for a little different, and now looking back ten years into his practice cannot imagine like without a yoga practice. It has contributed positively to his life well-being in so many ways.

A Brighton native, Simon's athletic endeavours began with him running laps at Withdean Stadium while Dad had a pint at The Sportsman. He played rugby at university (UCL), and took up competing in triathlon and endurance sports while living in New York including the Ironman distance.

He was introduced to the Bikram series in 2006 while living in New York and used Bikram initially to supplement gym workouts which he disliked enormously. Over a period of 9 months he saw his body respond favourably to a regular practice of 3/4 times a week, and within a year was determined to go to the next level and put himself through teacher training.

This experience gave him a new found desire to teach and share the series with a wider audience, recognising first hand the countless benefits for those that simply 'do the yoga'. Although he is still engaged with endurance sports, Bikram has become his primary work-out for body and mind, developing a greater sense of balance while providing strength and flexibility.

Having witnessed first hand the effect of a regular practice on himself and his students, he opened 'Bikram in the Lanes' with his wife in the Spring of 2010; recognising the continuing rise in hot yoga's popularity was born out of it's accessibility and applicability to everyone.