Lesley Fitzpatrick-Feurstein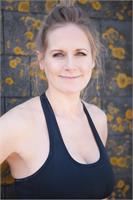 Lesley's love affair started with her first class - it was literally love at first sweat! Having trained for the Brighton marathon the year before, Lesley felt her first class wouldn't be a huge challenge! At the end of the class she acknowledged she had worked harder in that 90 min class than in all of her marathon training. Previous yoga classes had left her frustrated and only reminded her of her own lack of flexibility, but the heated Bikram Series allowed Lesley a glimpse of what her body was actually capable of!
Bikram yoga made a tremendous impact on Lesley but not just physically. Lesley had spent the previous year recovering from depression after a lengthy battle with Leukaemia and although she knew her body had healed, mentally the fight had taken its toll. Recognising the psychological, emotional and physiological benefits of the practice almost immediately, Lesley has transformed her life since then. Wanting to share her love of the practice, she left behind a career in healthcare communications and a life of stress and qualified as a Bikram Yoga teacher at the Fall 2014 teacher training in Thailand.
Lesley says; "This yoga series does so much more for you than you think possible. For me, practicing regularly ensures I am the very best version of myself - at my most calm, most giving, most generous and most compassionate. I truly believe that if everyone practiced Bikram Yoga the world would be a better, safer and healthier place. I've seen first hand the amazing benefits of this series, from people who have given up on life to those desperately trying to recover from illness and injury - as Bikram says; "you're never too old, never too sick, never too late to start again"!
Lesley Fitzpatrick-Feurstein instructs the following:
90 minutes, 26 postures and 2 breathing exercises practiced in 40% humidity and about 42 degrees Celsius so to be warmer than your internal body temperature thus increase oxygen levels in your blood, reduce inflammation, ease joint pain and increase circulation so to rinse & rejuvenate every cell in your body.