Bridgett Ane Goddard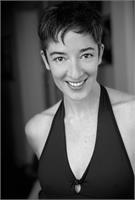 Originally from Chicago, Bridgett Ane was drawn to the Big Apple at age 18 and from NYC relocated to London in 2007. She began practicing hatha yoga in 1995, went on to study Ashtanga, Iyengar, Vinyasa Yoga and was introduced to Hot Yoga in NYC in 2000. Fascinated with the series' systematic approach and perfect balance of mind & body, the original hot yoga became her method of choice. Although not naturally flexible, her dedication and approach towards developing a strong practice has enabled her to reshape her body and life to the extent that she three times represented the UK at the International Yoga Asana Championships; placing 11th the world in 2013. Having graduated from the original Hot Yoga teacher training in June 2006, she has since taught all over the world, from LA to Amsterdam. A graduate of Ithaca College with a BFA in Acting, she loves the stage and still performs both as an actor and a dancer. She loves writing and has been published in a number of journals, including Yoga Magazine. Grateful to recognise the unlimited potential within all of us, BA encourages students to have faith in this series, to let go of judgment or fear and to practice forgiveness, courage and compassion. She was diagnosed with the auto-immune disorder, Interstitial Cystitis in 2008 but despite doctors recommendations to be on medication for the rest of her life, she opted for diet and lifestyle changes instead and discovered how powerful self healing is possible when practicing in healing mode. BA graduated from Jared McCann's Vinyasa Training in early 2016 and loves to witness the transformative effects of this class which combines classic meditation and asanas drawn from Iyengar, Ashtanga, Dharma Mittra, Anna Forrest &
Classic Hot Yoga.
Bridgett Ane Goddard instructs the following:
90 minutes, 26 postures and 2 breathing exercises practiced in 40% humidity and about 42 degrees Celsius so to be warmer than your internal body temperature thus increase oxygen levels in your blood, reduce inflammation, ease joint pain and increase circulation so to rinse & rejuvenate every cell in your body.




These exercises will be conducted without the heat, open to ALL LEVELS and when done with frequency and precision result in increased strength, flexibility and stamina. If you suffer back pain, limited shoulder/hip flexibility, sciatica, or low energy JOIN US, as this class gives you further tools to heal yourself.




The 26 postures we know and love (Classic Hot Yoga CHY: accessible to all and necessary for good health and vitality) were drawn from the original 84 asana series including bonus postures that deepen core and upper body strength such as sun salutations, lotus series, splits, arm balances, shoulder stand, really deep backbends, headstands, forearm stands, and handstands.

Advanced Class is lots of fun but not for beginners or anyone working with injuries.
*Teachers or experienced students only - come to class warm and ready. Practice CHY first and prepare to fall out of poses and laugh whilst trying!*




This Vinyasa class is Transformative! Sequenced by World Champion Jared McCann, this fun, dynamic practice uniquely fuses classical asana drawn from Ashtanga, Iyengar, Dharma Mittra, Hot Yoga and Forrest Yoga. Asana, pranayama and meditation combine classical and modern yoga philosophy to create strength, flexibility and resilience of body and mind.




For regular yoga students who have attended at least 2 months of regular practice (3-5 days a week). This class is led by an audible breath cueing us in and out of the classic series of 26 postures & 2 breathing exercises. Silence allows for an incredibly meditative practice allowing you to focus more on your breath, observe stillness and the power of moving as one.